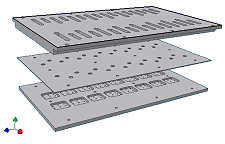 Frequently requested change parts are distribution plates and valves for chocolate depositors. Original manufacturers include Aasted, Bindler and Carle & Montanari.
The cost of sourcing these items from the UK are generally in the order of 70% of the cost of sourcing from the original equipment manufacturer but more importantly the lead time can usually be achieved in weeks as opposed to months.
We use a number of machine shops on a regular basis and we can generally provide a quotation for design and manufacture for any machined change part requirement.